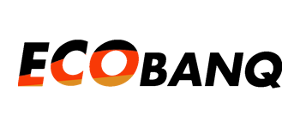 EcoBanq is an electronic wallet designed primarily for users in India. However, users from other parts of the world can also register if they want to use an e-wallet with Indian rupee, as only this currency is supported.
It is a simple and fast payment method that allows you to deposit and withdraw funds in Indian online casinos. It is also possible to send credits to other online stores, if this payment method is offered. It is a relatively new payment method and therefore the operator must first build a reputation and prove that they are serious. But the number of users is growing day by day.
Best Indian Casinos With EcoBanq
How To Use EcoBanq On An Online Casino
Casino deposit with EcoBanq
Depositing into an online casino with EcoBanq is very easy. Select the payment method, enter the amount you wish to deposit and follow the on-screen instructions to log in to your e-wallet account. Keep in mind that overdrafts are not possible, so make sure you have enough funds in your account to cover your deposit.
Casino payout with EcoBanq
EcoBanq can also be used for casino payouts, provided you have previously used it for deposits, as most reputable online casinos only process payouts using the same method that was used for deposits. Choose EcoBanq as your payout option, select the amount and follow the on-screen instructions to transfer the money to your e-wallet.
Advantages Of Using EcoBanq For Online Casino
Fast and SSL secured transactions
Deposits and withdrawals are possible
E-wallet currency supports only Indian Rupees
Mainly suitable for users in India
Company information and regulation are clear to customers.
Benefits When Using EcoBanq
EcoBanq can be an interesting payment option for users from India who cannot use any other payment method to deposit money in casinos. Since it is a new provider, time will tell if the payment provider is reputable. So we will keep you up to date.
Although EcoBanq payments are secured with SSL, there is little or no information about the regulation or the company itself. The e-wallet service allows payment with Indian Rupees (INR). If you wish to pay in other currencies, conversion fees will apply.
If you prefer to use a regulated and licensed payment provider, you should check out Neteller or Skrill, which also accept users from India.
There are also not many online casinos that accept EcoBanq yet. However, it is possible that users will appreciate the service, that it will grow and expand, and that there will be more cooperation with other online casinos.
How To Set Up Account With EcoBanq
In order to use this service, you must first register an account with the provider. Registration is easy and you must first enter your email address to create the account. You will then receive a confirmation e-mail and you must click on the link in the e-mail to continue the registration.
The next step is to enter some personal information for your account, including your name, address, date of birth, password and more. Although the service is mainly aimed at users from India, the only language offered on the site is English. After you have entered your information, a member of staff will manually verify your registration within 24 hours.
After the account is accepted, you can deposit money into the account and then spend it in online stores or casinos that accept this payment method. You can load your EcoBanq Wallet in various ways, for example with Visa or Mastercard or through a bank account of a participating bank in India.
EcoBanq Frequently Asked Questions
EcoBanq supports the Indian Rupee as currency for accounts.
Opening and using an account with EcoBanq is free of charge. When you make a payment in another currency with EcoBanq, the provider charges conversion fees, which you will see before the payment.
However, the EcoBanq fees cannot be viewed before registration, they are only displayed after registration and vary depending on the payment method. When withdrawals are made from your EcoBanq account to your own bank account, there are fees that are deducted from the withdrawal.
Most casinos that offer this payment do not charge their users any fees in many cases, but you should check the fee structure of the casino in question before you make a transaction.
Transferring money with EcoBanq only takes a short time, provided you have funds in the account. Receiving money also takes only a few minutes after the payment is processed by the casino.
Yes, some casinos accept EcoBanq as a payment method. In our overview you can find the best online casinos.
Deposits and withdrawals with EcoBanq can usually be as low as ₹800 and as high as ₹400.000 per transaction. The limits depend on the guidelines of the respective casinos.
Currently not much information about the company is available on the website and we do not know exactly where the office is located. The company is registered in the British Virgin Islands and is subject to the laws of that country.
Some casinos offer their users a welcome bonus or other bonuses that they can receive when making a deposit. In the terms and conditions you can find out if players from India can receive a bonus. But also check the bonus terms and conditions to see if payments with EcoBanq may be excluded from receiving a bonus.
Well, this is a difficult question and the answer is not easy. First, the transactions are secured by SLL, which means that the transfer is secure. However, the payment provider does not publish any information about itself on its own website and there is no information about who regulates or supervises the payment provider or where the company is located, except that the company is registered in the British Virgin Islands.
Although the Company claims that the payments are secure and the funds are protected, it is not clear who will guarantee that the funds are actually secure. In their terms and conditions they also state that they are not a chartered bank or depository institution, but a financial agent.
For this reason, we do not recommend storing large amounts of money in the e-wallet, as there is no legally protected collateral. However, it is a convenient payment method for players who want to transfer money quickly and easily and have no other options available.
As a result, it is also recommended to ensure that the casino of your choosing has a good license, with the best ones in the world being the European ones (MGA Malta and the United Kingdom Gambling Commission).